Schedule
Group 1
7 - 10 October 2018
Argentina, Australia, Baltics, Bangladesh, Bolivia, Bulgaria, Ecuador, Greece, Hong Kong, Hungary, Israel, Italy, Japan, North America, Malaysia, Mongolia, Paraguay, Peru, Philippines, Poland, Russia, Scandinavia, Slovakia, Spain, Taiwan, Turkey, UAE, Ukraine
Sunday 7 October 
All Day     Arrivals
All Day     Registration Trailblazer Ballroom (guests at Scottsdale Plaza will register on October 8 before Training)
Monday 8 October
07:00 - 08:00     F.I.T. Workout at Marshalls Outpost
07:00 - 09:00     Breafast at Westin/Villas Trailblazers Ballroom & Lobby
06:30 - 08:30     Breakfast at Scottsdale Plaza Brittlebrush Grande Ballroom EF
07:00 - 09:00     Registration Open in Trailblazers Ballroom
09:00 - 12:00     Training in Kierland Grand Ballroom
14:00 - 18:00     Free Time
18:00 - 20:00     Dinner
20:00 - 22:00     GLT Take Over in Kierland Grand Ballroom
 
Tuesday 9 October
07:00 - 08:00     F.I.T. Workout at Marshalls Outpost
07:00 - 09:00     Breafast at Westin/Villas Trailblazers Ballroom & Lobby
06:30 - 08:30     Breakfast at Scottsdale Plaza Brittlebrush Grande Ballroom EF
09:00 - 17:00     Tours of Home Office and Forever Nutraceutical
11:00 - 14:00     Picnic Lunch (times vary depending on arrival at Home Office) 
18:00 - 22:00     Foreverpalooza on Pitman Lawn 
Wednesday 10 October 
07:00 - 09:00     Breafast at Westin/Villas Trailblazers Ballroom & Lobby
06:30 - 08:30     Breakfast at Scottsdale Plaza Brittlebrush Grande Ballroom EF
All Day     Departures 
Group 2
10 - 13 October 2018
Benelux, Brazil, Cameroon, DACH, DRC, Cote D'Ivoire, East Africa, France, Ghana, India, Ireland, Nigeria, Romania, Senegal, South Africa, UK, Portugal, Vietnam
Wednesday 10 October 
All Day     Arrivals
All Day     Registration Trailblazer Ballroom (guests at Scottsdale Plaza will register on October 8 before Training)
Thursday 11 October
07:00 - 08:00     F.I.T. Workout at Marshalls Outpost
07:00 - 09:00     Breafast at Westin/Villas Trailblazers Ballroom & Lobby
06:30 - 08:30     Breakfast at Scottsdale Plaza Brittlebrush Grande Ballroom EF
07:00 - 09:00     Registration Open in Trailblazers Ballroom
09:00 - 12:00     Training in Kierland Grand Ballroom
14:00 - 18:00     Free Time
18:00 - 20:00     Dinner
20:00 - 22:00     GLT Take Over in Kierland Grand Ballroom
Friday 12 October
07:00 - 08:00     F.I.T. Workout at Marshalls Outpost
07:00 - 09:00     Breafast at Westin/Villas Trailblazers Ballroom & Lobby
06:30 - 08:30     Breakfast at Scottsdale Plaza Brittlebrush Grande Ballroom EF
09:00 - 17:00     Tours of Home Office and Forever Nutraceutical
11:00 - 14:00     Picnic Lunch (times vary depending on arrival at Home Office) 
18:00 - 22:00     Foreverpalooza on Pitman Lawn 
Saturday 13 October 
07:00 - 09:00     Breafast at Westin/Villas Trailblazers Ballroom & Lobby
06:30 - 08:30     Breakfast at Scottsdale Plaza Brittlebrush Grande Ballroom EF
All Day      Departures 
Hotel & Travel Info
The sunny city of Scottsdale, Arizona, the Westin Kierland Resort and the Scottsdale Plaza Resort will be host to our EMR18 qualifiers and event this year. Expect the weather to be warm and sunny with highs of 90F/32C and lows of 68F/20C. Read more about What To Expect here.
Westin Kierland
Explore what there is to do and see nearby at Kierland Commons in Scottsdale, Arizona
Group 1
Argentina, Australia, Baltics, Bangladesh, Bolivia, Bulgaria, Ecuador, Greece, Hong Kong, Hungary, Israel, Italy, Japan, North America, Mongolia, Paraguay, Peru, Philippines, Poland, Russia, Scandinavia, Slovakia, Spain, Taiwan, Turkey, UAE, Ukraine
Group 2
Benelux, Brazil, Cameroon, DACH, DRC, Cote D'Ivoire, East Africa, France, Ghana, India, Ireland, Nigeria, Romania, Senegal, South Africa, UK, Portugal, Vietnam
If you'd like to book extra nights at the Westin Kierland Resort and Spa, the rate is $279 USD per room, per night for October 4, 5, 6, 14, 15, 16. Breakfast is an additional charge. To book this special rate at the Westin Kierland, please mention you are with Forever Living Products.
Back to top
Scottsdale Plaza Resort
Explore more of the Scottsdale Plaza Resort!
The rates per night for anyone wishing to book extra nights is $168.00 per night.
++based on room only charge for dates October 4, 5, 6, 14, 15, 16. Breakfast is an additional charge.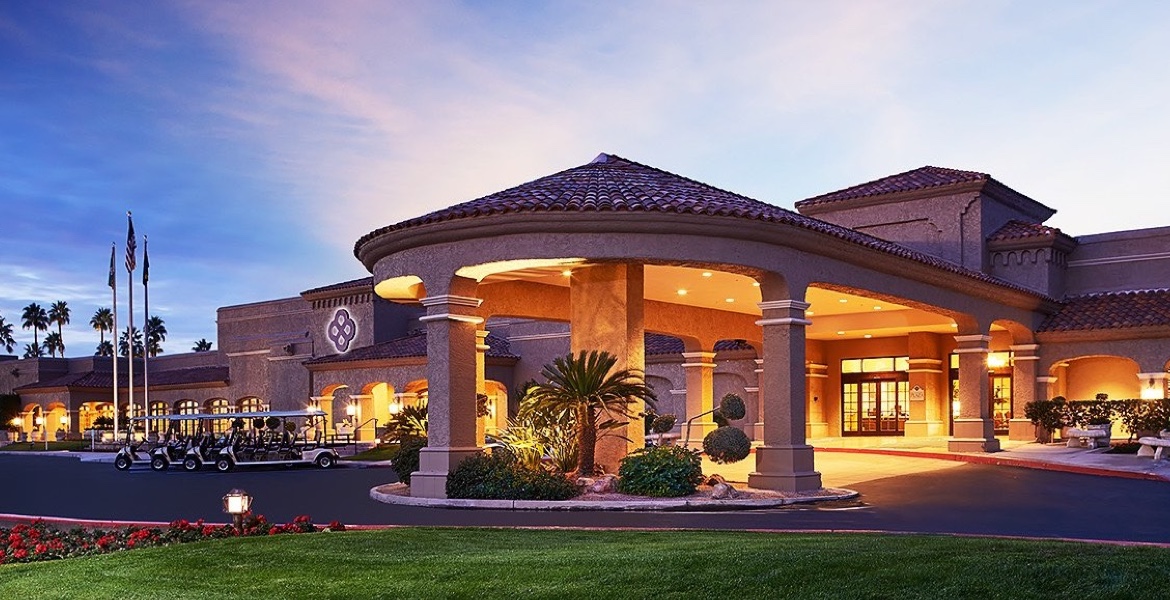 Scottsdale Plaza Resort and The Westin Kierland
Each guest is required to provide daily deposits as requested by each hotel to cover any incidentals. This deposit is $60.00 per room, per night. If paid by cash and not used the hotel will refund with cash.
Back to top
Child's Passes
Child's Passes will be available for EMR18 in Phoenix and must be purchased by September 1, 2018.
Each pass is $240 and includes the following:
Arrival & Departure transport
3 x breakfasts
Foreverpalooza Entry & Dinner at Westin Kierland
Transport for Home Office & Forever Nutraceutical Tours
Boxed lunch on the tour day
Home Office & Forever Nutraceutical Tours
Is your child 24 months or younger during the time of the event? 
You can receive a complimentary pass. Please purchase the child's pass 
and send your details along with a copy of your child's passport to globalevents@foreverliving.com. The deadline to request a refund for your Child's Pass is October 7, 2018. 
Tours
Ready to see what's behind the scenes at the Forever Home Office and Forever Nutraceutical? Tour these two locations as part of your activity during EMR18. 
What to Expect on the Tours
See where the Executive Team and Forever staff conduct daily operations
Take in the views of Scottsdale from the Home Office
Walk down the Hall of Flags where each Forever country is represented
Take a behind the scenes tour of Forever Nutraceutical's quality testing 
Observe the production our Forever nutritional and bee products
Lunch will be included as part of your tour.  Follow us on Instagram to see some behind the scenes action before you get here! 
---
Interested in making the journey to see where Forever's aloe is grown and 
harvested in the USA? Aloe Vera of America is ready to welcome you home 
for Eagle Manager's Retreat 2018.
There will be ample time to take pictures or videos in the Aloe field and in the factory.
Please note: depending on time of day of your tour, you may not see all of the above on your tour.
Click here to download more information.
(Transportation and accommodations to and from the Aloe fields is the responsibility of the Forever Business Owner.)
Product Orders
Would you like to order products to have delivered to you during Eagle Manager's Retreat? Place your orders online at foreverliving.com.
All product orders must be made by October 2, 2018. You will receive your product order at Registration at the Westin Kierland Resort and Spa when you pick up your event registration packet.
How to order:
1. Go to foreverliving.com and sign into your FBO site. Be sure you are under United States while shopping.
2. At checkout, select EMR 2018 Pick Up from the drop down options.
3. Be sure to place orders by October 2nd to ensure your order can be fulfilled in time for the event.
Back to top
FAQ
Q: What airport should we fly into?
A: Phoenix Sky Harbor International (PHX)
Q: What is included in the child's pass and where can I purchase it? 
A: Visit the Child's Pass section above or go here to learn more. 
Q: How can I book a tee time at the Westin Kierland Resort & Spa?
A: To book a tee time, you can visit the website here: https://www.kierlandgolf.com/book_tt/ or call (480) 922-9283. 
Q: Can I have a larger room if I am bringing more than two children? 
A: The room occupancy is a max of four people, 2 adults and 2 children. If an FBO has more than two children, the qualifier is responsible for arranging an additional room with the hotel directly. Please call the hotel and speka to Stefanie, mention you are with Forever Living Products. Note that a child's pass is available to purchase for the transport and meals at the hotel for children 17 years of age and younger, per our global events policy.
Q: What time of day should qualifiers arrive?
A: Qualifiers can arrive at any time during the scheduled day of arrival.
Q: When is the Forever EMR party?
A: Forever Palooza will be on October 9th for group 1 and October 12th for group 2. The attire is your favorite musician or genre of music. Get ready to celebrate festival style!
Q: I would like to bring an additional guest. Will they be able to attend EMR events and use transporation?
A: No, EMR is only open to qualifiers and their children with child's passes. Please note that rooms can accomodate up to 4 people. If you bring an additional guest, please be prepared to make necessary arrangements. 
More information about #EMR18 is coming soon! Use the hashtag to share your excitement and follow the information being posted on social media.